NASF focusing on technology proved to be a great success!
A record high turnout for Day 1 at NASF and the technology sessions. All sessions experienced a full room, underlining the importance of, and the high interest in technology and innovation for the seafood industry.
NASFTec 23 – The new NASF technology initiative
The room was packed and filled with excitement as NASF General Manager André Akse kicked off NASFTec23. The session was inspired by tech symposiums in Silicon Valley with ample opportunities to come and go at this 14-company strong line-up.
All companies presenting their innovative and market ready solutions, giving CEO's CTO's investors and other delegates valuable insight in what kind of developments that has been made, and that now is ready for implementation. The idea behind NASFTec was to bring new technology insight to top management and giving these companies the advantage of being able to connect with top executives form the industry.
Participating at NASFTec provided us with an opportunity to present our vision for precision fish farming to a high-level international crowd. After the event I have made many new connections, with whom I look forward to following up now and hopefully enter into mutually beneficial collaborations with. When the registrations open for next year, we will be first in line.
Sven Jørund Kolstø, CEO Optoscale
NCE Seafood Innovation Award 2023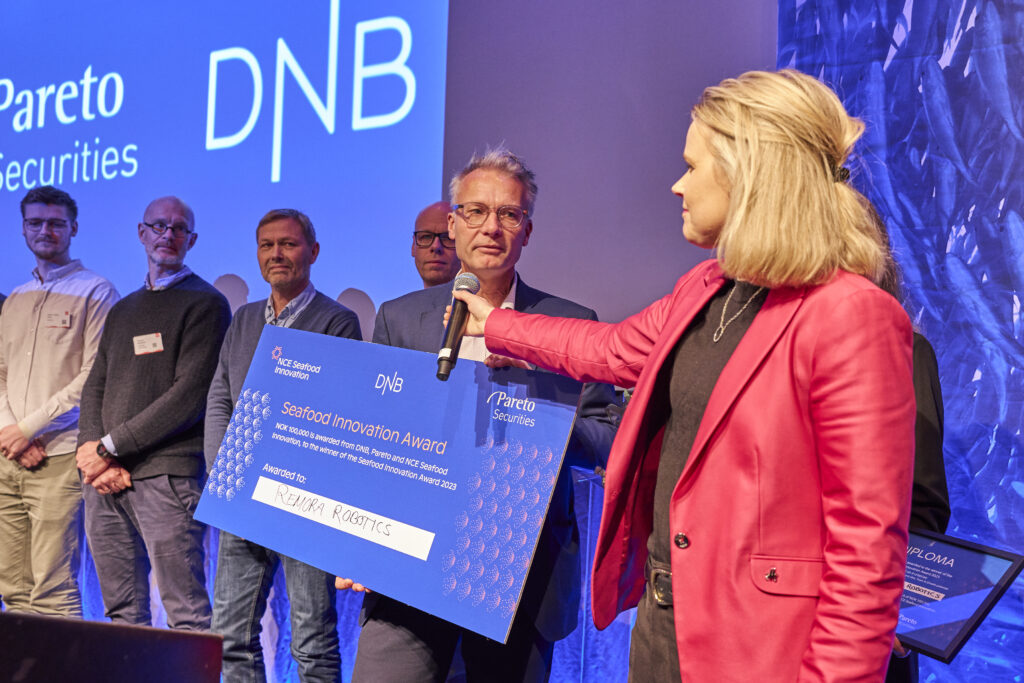 The eight NCE Seafood Innovation award nominees held a series of interesting and ground-breaking presentations underlining how important startups and new ideas are to the industry. The audience got to hear about robotics, new AI based technologies and seafood snacks to mention a few. And the delegates present also got to vote for the winner.
The winner, Remora Robotics with their AI powered, and autonomous net cleaning robot was announced at the plenary session on Wednesday. The prize is 100 000 NOK sponsored by Pareto Securities, DNB and NCE Seafood innovation.
Governmental agencies and Mediterranean delegation present to learn
Representatives from the aquaculture industry in Greece and DEFRA (Department for Environment, Food & Rural Affairs) in the UK where both present at Day 1 at NASF.
"With very positive feedback from both these two parties we are encouraged to continue and develop Day 1 at NASF focusing on technology and technological advancements in the seafood Industry"
Andre Akse
General Manager
North atlantic Seafood Forum