Call for NASFTec Aqua participants
For the second time NASF invites technology providers to showcase new technology solutions for the top tiers of the aquaculture industry.
When decision makers and key players gather at North Atlantic Seafood Forum, the organizer wants to highlight the latest commercially available technology.
The Aquaculture is growing worldwide, and technology and innovation is keeping up the phase.  Salmon farming is leading the way for capital intensive production. Positive earnings and strong demand growth creates an urgent need to invest in improved solutions.
At NASF you get the opportunity to meet and talk to key decision makers form all the major seafood companies. The North Atlantic Seafood Forum is a business conference, and new technology, best practices and how to solve challenges ahead is the core of all sessions at the conference.
NASF is a global conference with 400 companies from 40 countries.  We expect 1000 executives to attend NASF24. At the inaguaral NASFTec Aqua there where over 200 delegates attending the session.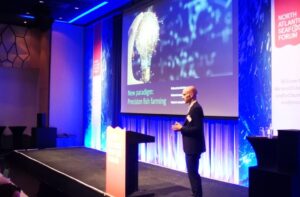 Participating at NASFTec provided us with an opportunity to present our vision for precision fish farming to a high-level international crowd. After the event I have made many new connections, with whom I look forward to following up now and hopefully enter into mutually beneficial collaborations with. When the registrations open for next year, we will be first in line.
Sven Jørund Kolstø, CEO Optoscale
The NASFTec Aqua participants package includes:
A 10-minute presentation at NASFTec Aqua on Tuesday 5th March 2024 (13.30 to 17.00)

Two delegate passes to the entire NASF24 (receptions, lunches and dinner, 15 sessions/180 speakers)

A small booth (1×2 meters – equipment for hired) in the designated NASFTec area

Invite 3 guests to attend NASFTec Aqua Tuesday 5th March at a very favourable rate.
To attend, please send a short description of your technology and presentation to andre@nor-seafood.no by November 30th.
NB!
We also launch NASFTec24 Wild Catch aimed at improving fishing technologoes for shipowners and fishing companies. If interested, please reach out.